U.S. Army Enlisted and Officer Ranks
US Army Enlisted Insignias by Rank
| | | | | | | | | | | | | |
| --- | --- | --- | --- | --- | --- | --- | --- | --- | --- | --- | --- | --- |
| Insignia: | | | | | | | | | | | | |
| Title: | Private | Private First Class | Specialist | Corporal | Sergeant | Staff Sergeant | Sergeant First Class | Master Sergeant | First Sergeant | Sergeant Major | Command Sergeant Major | Sergeant Major of the Army |
US Army Officer Insignias by Rank
| | | | | | | | | | | | | |
| --- | --- | --- | --- | --- | --- | --- | --- | --- | --- | --- | --- | --- |
| Insignia: | | | | | | | | | | | | |
| Title: | Second lieutenant | First lieutenant | Captain | Major | Lieutenant colonel | Colonel | Brigadier general | Major general | Lieutenant general | General | General of the Army | General of the Armies |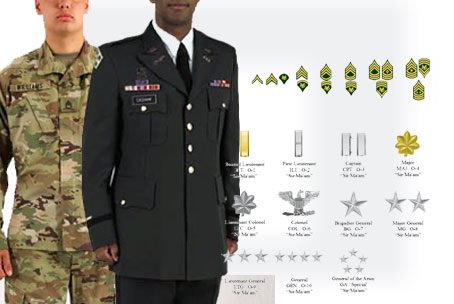 The Army is the U.S. Armed Forces largest branch. Enlisted ranks range from E-1, a Private, to E-9, a Sergeant Major, Command Sergeant Major, or a Sergeant of the Army. If you have a college degree, a soldier can enter the Army with a E-4 ranking. The Army's enlisted ranks are broken down into The remaining soldier ranks are as listed: Private (E-2), Private First Class (E-3), Specialist (E-4), Corporal (E-4), Sergeant (E-5), Staff Sergeant (E-6), Sergeant First Class (E-7), Master Sergeant (E-8), and First Sergeant (E-8). Private First Class (E-3) are the basic workforce and strength of the Army. It's common for servicemembers to remain as a Non-Commissioned Officer (E-4 through E-6). However, to be promoted to E-4 through E-6 status, a soldier must perform certain tasks and have qualities that are transferred into a point system that is part of a nation-wide competition. Junior Enlisted Ranks (E-1 through E-4) are automatically promoted based on completing specific service periods.
To become a Warrant Officer in the Army, you must be appointed by the Secretary of the Army. Warrant Officers have adapted technical skills and are combat leaders and advisors. Officers begin with a W-1 rank. Only the highly qualified can become appointed as a Chief Warrant Officers with a pay grade ranging from W-2 to W-5.
The managers of the Army are the Officers and they are in charge of the enlisted soldiers. Army Officers began their rank as a Second Lieutenant (O-1). They typically lead a platoon sized troop. After 18 months as a Second Lieutenant, an Officer is usually automatically promoted to First Lieutenant (O-2). The pay is more, but the other responsibilities are slight. From there, promotional rankings continue to the Captain (O-3), Major, (O-4) Lieutenant Colonel (O-5), Colonel (O-6), Brigadier General (O-7) Major General (O-8), Lieutenant General (O-9), General (O-10), General of the Army (O-11), and General of the Armies of the United States (O-12).
As an Officer receives more promotions in rank, the next level rank becomes more competitive and difficult to attain.
After years of exemplary service and promotions, an Army Officer can continue to move up in rank. However, these limited and demanding upper level positions are only filled by the highest qualified Officers.
"A Lieutenant Colonel "typically commands battalion-sized units (300 to 1,000 Soldiers), with a CSM as principal NCO assistant. May also be selected for brigade and task force Executive Officer.

Army.mil - https://www.army.mil/symbols/officerdescription.html