U.S. Marine Corps Enlisted and Officer Ranks
US Marine Corps Enlisted Insignias by Rank
| | | | | | | | | | | | |
| --- | --- | --- | --- | --- | --- | --- | --- | --- | --- | --- | --- |
| Insignia: | | | | | | | | | | | |
| Title: | Private First Class | Lance Corporal | Corporal | Sergeant | Staff Sergeant | Gunnery Sergeant | Master Sergeant | First Sergeant | Master Gunnery Sergeant | Sergeant Major | Sergeant Major of the Marine Corps |
US Marine Corps Officer Insignias by Rank
| | | | | | | | | | | |
| --- | --- | --- | --- | --- | --- | --- | --- | --- | --- | --- |
| Insignia: | | | | | | | | | | |
| Title: | Second lieutenant | First lieutenant | Captain | Major | Lieutenant colonel | Colonel | Brigadier general | Major general | Lieutenant general | General |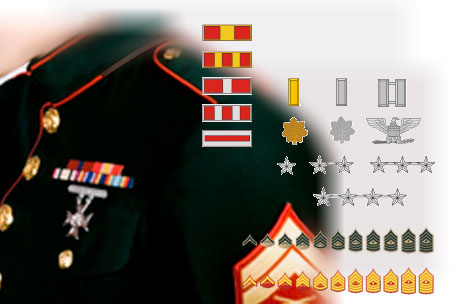 The USMC Warrant Officers (O-1 to O-5) are highly skilled and technical individuals. To apply for an O-1, they must first serve 8 years enlisted in the Marine Corps and have reached the rank of Sergeant. A college degree is not required, but since these positions are based on the most qualified, exceeding the basic requirements is encouraged. Acting as problem solvers, a Warrant Officer leads Enlisted Soldiers in all situations.
Their are 3 different ways an individual can become a Commissioned Marine Corp Officer. Earning a 4 year college degree, attending one of the several Military Academies, or transitioning from an Enlisted military member to an Officer are each qualified paths to becoming an Officer. The USMC Officer division is broken into two sections: Officer and General. The Officer section includes Second Lieutenant (O-1), First Lieutenant (O-2), Captain (O-3), Major, (O-4) Lieutenant Colonel (O-5), and Colonel (O-6). Reaching Captain to Major rank requires a three in grade and 9 to 11 years in service. If working in mission support, a Major's role is usually squadron commanders. For General ranks, they are as follows: Brigadier General (O-7) Major General (O-8), Lieutenant General (O-9), and General (O-10). It is extremely difficult to reach O-7 to O-10 status as these positions are limited and must be nominated by the U.S. Senate.
Ranks E-1 through E-9 make up the Marine Corps Enlisted members. Monthly salaries are dependent on the servicemember's service time and grade. E-3 or Lance Corporal with less than 2 years of service has a monthly salary of $1876.00, while the same ranked individual with more than 3 years service receives a monthly salary of $2,115.00. To graduate to a higher rank that comes with added responsibilities, a marine's time in service, time in grade, and personal conduct are considered.
"Often referred to as the backbone of the Corps, enlisted Marines with pay grades of E-4 and E-5 are non-commissioned officers (NCOs). Staff NCOs are career Marines serving in grades E-6 through E-9. Together they are responsible to the commanding officer for the welfare, morale, discipline, and efficiency of Marines in their charge. The ranks of E-8 and E-9 each have two ranks per pay grade, with distinct responsibilities. Gunnery sergeants (E-7) indicate their preferred promotional track on their annual evaluations. First sergeants (E-8) and sergeants major (E-9) serve as senior enlisted advisors assisting the commanding officer in matters of discipline, administration, and the morale and welfare of the unit. First sergeants serve as the senior enlisted Marine in a company, battery, or other unit at similar echelon, while sergeants major serve the same role in battalions, squadrons, or larger units. Master sergeants (E-8) and master gunnery sergeants (E-9) provide technical leadership as occupational specialists in their specific MOS."

Marines.mil - http://www.marines.mil/Marines/Ranks.aspx